Balenciaga, renowned for reinventing fashion norms, continues to make waves in the industry with its distinct and unconventional designs. Led by creative director Demna Gvasalia, the brand consistently pushes boundaries, delivering unique takes on clothing, accessories, and footwear. The newest addition to Balenciaga's lineup is the Men's Defender "Worn-Out" Sneaker, which takes its name quite literally!
The Latest Release
The Men's Defender "Worn-Out" Sneaker by Balenciaga embraces a deliberately weathered aesthetic, appearing as if it's covered in dirt and dust. Despite its rugged appearance on its silhouette, the shoe retains its original design, featuring lightweight mesh uppers and exaggerated chunky soles.
An Upgraded Edgy Style
The sneaker goes beyond just a worn-out look. This special Balenciaga sneaker boasts a 0.5-inch arch and a dramatic jumbo tire treaded sole, enhancing its edgy appeal. Crafted in China, the sneaker comes in a distinct 9700 Beige Destro color, characterized by a bright white tone with cream undertones. Abrasions and bold scuff marks adorn the lower perimeters and outsole, adding to its worn-out effect.
Signature Details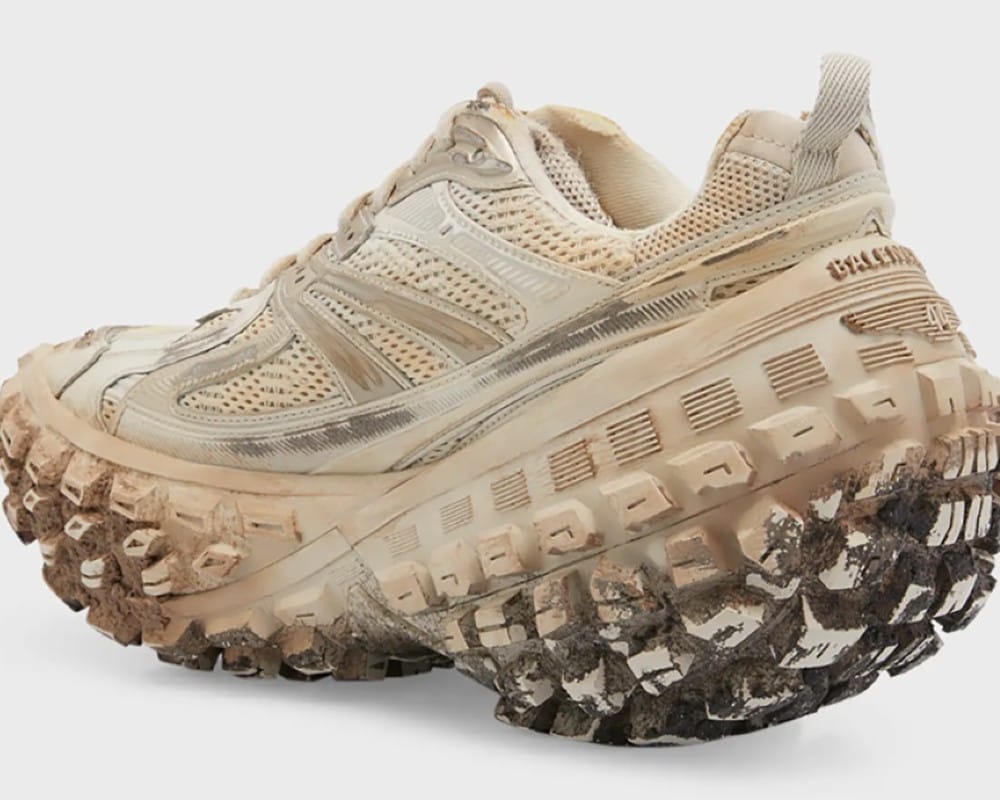 The iconic branding of Balenciaga is subtly incorporated into the design, with the signature logo debossed at the back, on the tongue, and at the edge of the toe of the shoe. The silhouette also features a destroyed nylon and mesh upper, giving it a distinctive look. Additional details include a wipe with a soft cloth, stained laces, and a convenient back pull-on tab, further contributing to its striking aesthetic and rugged appearance.
Availability and Price
Priced at $1,550, the Balenciaga Men's Defender "Worn-Out" Sneaker is now available for purchase at all the Balenciaga stores and through various famed high-end retailers, including Saks Fifth Avenue and Neiman Marcus. The brand continues to be highly sought-after in the luxury category, celebrated for its creativity, craftsmanship, and contributions to the fashion industry, and the new sneaker undoubtedly upholds the brand's unique legacy.