Don't: Worry About "Dressing Your Age"
There's a lot of advice out there about what people should wear in their specific age ranges. No one said styles had a maximum age limit, though.
Fashion is all about expressing your individuality and sometimes that might not match with what you think people expect you to dress like. If you like a style popular in an age range a decade below you, it's not all that unreasonable to give these styles a try!
Do: Shake Up Your Style
When you find something you love in fashion, it's easy to lean toward that trend from then on. Knowing what you like isn't always a bad thing.
If your aim is to look younger, though, experimenting with your style can help out quite a bit. This doesn't necessarily mean you have to keep up with all of the latest trends. It just means it can help to have a more dynamic style and modernize different elements of your wardrobe.
Don't: Wear All Black
Black is an often-used color in fashion. After all, it's been described as everything from neutral, to bold, to slimming. It definitely has its place in a wardrobe.
If you're trying to create a younger appearance, though, all black may start to work against you over time. This doesn't mean you have to get rid of your favorite outfits. You can brighten them up a little bit with a bold-toned accessory, like a bright jacket, or even play with more vibrant makeup.
Do: Try Out Matte Eye Shadow
Speaking of makeup, there are a few things you can do to help create a more youthful appearance. For instance, you might want to try out some matte eyeshadow.
There's nothing wrong with glittery eye shadow. Those sparkles can really catch the light! For this purpose, though, sparkling eye shadow falls short because it has a way of defining your wrinkles as it settles in. If you want to show off your natural wrinkles, perfect! But if you're trying to look a little younger, matte eyeshadow has this effect.
Don't: Skip Out on Accessories
Even if you've found the best top, pants, skirt, or dress, it's going to look a little plain if you wear the outfit all by itself. So, you'll want to spice it up with the right accessories!
You can opt for decorative or practical here. For instance, a bag or watch can do the trick. Other options include glasses, scarves, hats, belts, or jewelry. Remember, you don't want to load yourself down with accessories either.
Do: Wear a Knee-Length Skirt
There's a tendency as people age to veer away from some clothes they wouldn't have avoided at one point. It seems as people get older, they often want to lengthen their skirts.
Maxi and midi skirts are rather popular for good reason. They can be really flattering! On the other hand, if you want to give yourself a slightly younger appearance, give a few shorter skirts a try. You don't have to opt for a mini skirt but you might be surprised by the results from a knee-length number.
Don't: Wear a Statement Necklace
We covered earlier that accessorizing can really make you look younger. Still, there are a few accessories that it'd probably be best if you avoided.
For one, you won't want to wear an oversized statement necklace. These first rose to popularity a few decades ago in the 1980s. However, unlike mullets and mini skirts, this one hasn't remained as popular and often comes off as dated.
Do: Wear Fitted Clothes
Fitted vs. baggy clothes seem to swap places on which one is in style at any given time. If you're worried about looking older, fitted clothes can help you avoid this.
You'll notice a difference the minute you try on a fitted outfit. This type of outfit will go a long way in making sure you're wearing the right size. In the same regard, wearing clothes that are too small will be uncomfortable and counterintuitive as well. You want clothes that work for you!
Do: Break Up the Baggy
If you do like the baggier style of clothing, there are ways to implement it more effectively if you're worried it could make you look older.
While it can look great on some people, some find the illusion of baggy clothes give a little too much of an aging effect. To mesh the style with your style goal of looking younger, try to vary your silhouette. If you're wearing baggy pants, opt for a fitted top or vice versa.
Don't: Wear Baggy Formal Wear
Baggy clothes, as mentioned, have their place in fashion. Done correctly, the effect can really make casual wear stand out or it can make more formal wear have a more casual look.
On the other hand, you'll want to make sure your professional and formal wear is properly fitted. Boxy blazers, for example, often make you look older than a fitted cut. In similar fashion, if you opt for a shorter blazer, it'll have a similar effect to a fitted one rather than a loose one.
Do: Wear Jeans
There are some items of clothing that you can always turn to when you want to add a bit of a younger look to your wardrobe. We can't recommend a pair of jeans enough!
Plus, there are a lot of different cuts, washes, and styles to help you find something that fits in your wardrobe. If you find denim uncomfortable, there are "jeans" in softer materials. Just make sure they're the right size to avoid bunching.
Don't: Forget About Denim Jackets
While jeans are a great way to make yourself look younger, they aren't the only thing that denim can help you with. Another instantly youthful option is to opt for a denim jacket.
Much like jeans, this is one piece of clothing that seems to stay popular among younger people. These are great, especially during the spring and fall when the weather is slightly cooler.
Do: Throw on Some Shades
This one is, to be fair, specific to sunny days. Wearing the best pair of shades to the office on a cloudy day might confuse people.
However, when the sun is out, try to think of sunglasses as an accessory as well as a necessity. Finding the right statement pair can really draw the eye to your face right away, as well as give you a younger appearance.
Don't: Just Rely on Trends
Earlier, we told you not to be afraid of new trends. They're for everyone to try out, no matter how old you are! On the other hand, you won't want to fill your wardrobe with just trendy pieces either.
If you do, you'll look younger for a little while but the fad will cycle out eventually. It's better to incorporate trends into your wardrobe rather than to just rely on them.
Don't: Wear Big Florals
Floral print definitely has its place. In the spring, vibrant florals make a comeback in stores almost every single year. Neutral-toned florals are often popular but they can age you quite a bit.
There are a few ways you can brighten up the look. Once again, bright colors can help out a lot here. If you want to keep the color palette neutral, try out geometric patterns over floral ones.
Don't: Wear Frameless Glasses
The right accessory can really make or break an outfit. If your goal is to look younger, you'll want to consider your glasses carefully. The right pair can help you look a bit younger.
Frameless glasses pair with just about anything, but they have the potential to make you look older. Using frames can make you look a little younger. Don't be afraid to play with different shapes either!
Don't: Wear (Loose) Jersey Fabric
There are some fabrics that are naturally flattering. Others may not work for purposes such as making yourself look younger. Jersey fabric is amazingly soft but the trade-off is that it tends to fold over on itself and clump up.
Luckily, there are ways to make jersey fabric more flattering. One way is to opt for a tighter fit with less opportunity for fabric to clump up. Or look for products made with double-knitted jersey, which is thicker.
Do: Wear Layers
Layers can work really well or they can really take away from an outfit, depending on how you pull them off. There's a way to use layers to make sure that you look younger.
Implementing this isn't too hard either. You don't have to get too complicated with it, after all. To give it a shot, try just adding a jacket over the slacks and shirt you were about to wear out the door. It's a stylish touch that can help your outfit really stand out!
Don't: Avoid Casual Clothes
As you get older, you probably get more used to donning professional clothes. After all, you probably get used to dressing a certain way for work.
Dropping some of the professional outfits, in your free time, can help create a more youthful appearance. Just because you're older doesn't mean you have to avoid casual clothes that are popular among younger adults. This doesn't mean dropping professional outfits forever, but don't be afraid to try out some sneakers, frayed jeans, or even a few relaxed shirts.
Do: Update Your Sneakers
If you're someone who keeps an old pair of running shoes in the back of the closet, they're probably better for the gym than the runway.
While you don't have to be runway-ready when you leave the house, opting for these over a pair of more stylish sneakers can make you look older than you're aiming for. Another great benefit to this is that it's a comfortable footwear option too!
Don't: Avoid Color Blocking
First, let's define color blocking: This is when you plan your outfit based on a few bold colors throughout the outfit.
For example, if you decided to wear a black top, let a colorful pair of pants shine, or even choose differing bold colors for a paired top and skirt. That's color-blocking. Not only will it make you look younger but it's a rather eye-catching fashion trick to get the hang of.
Do: Keep Some Ankle Boots Around
There are some pairs of shoes you definitely won't want to go without when you're stocking up your closet. It's important to grab these as they can be lasting staples in your wardrobe.
One timeless option is an ankle heel. These heels, as the name suggests, stop at your ankle. In other words, they're easy to pair with a number of different outfits and offer a more timeless look than a higher-cut boot.
Don't: Hide Your Ankles
Showing a little ankle might sound like pretty dated fashion advice but it actually goes a long way to add a youthful touch to your outfit.
A long pant leg can make you look surprisingly older but wearing capris can have a similar effect. You can go halfway with fashionable pants where the pantline falls just above the ankle. It'll keep you a little cooler and look a little more modern.
Do: Keep Your Accessories in Order
The right bag or shoes can add a lot to an outfit. If they're not looking their best, though, they can also really drag an outfit down. When you're trying to avoid looking older, make sure your accessories are in good condition.
Shoes that look like they're worn down or bags that have seen better days, may age you. This doesn't mean you have to buy new stuff, but a little leather care can help a lot with longevity!
Don't: Shy Away from Vintage
As we said, evolving your style over time will help you look younger. Yet, this doesn't mean you have to throw out every piece you once loved.
Older pieces often come back into style again and show off a little bit of personality. You can work an old piece into a new outfit by adding a few modern elements. This is a great way to make your pieces last longer than just the seasons they're in style for.
Do: Grab the Right Socks
Back in the '90s and early 2000s, it wasn't uncommon to see people pulling their socks up high. It's a great idea when you need a little extra warmth.
If you have your lower legs showing, it's a good idea to ditch the showing socks. Sure, if you're a real sock fan and want to show off your collection, go for it! On the other hand, no show or low-cut socks will do you better if your goal is a younger appearance.
Don't: Wear Brooches
When you want a younger appearance, there are some accessories you may want to avoid. Wearing a brooch, once in a while, can be a classy touch.
The only problem is that this trend hasn't always stayed as popular as it once was. They're fantastic as a statement piece for the occasional outfit. However, donning one for work every day can start to age you after a while.
Don't: Wear Old-Fashioned Hosiery
Pantyhose, leggings, and tights can help you out by adding an extra layer and, in some cases, it can help add an even tone when you're seeking one.
For a long time, pantyhose with a bit of shine to them was considered the standard. Today, a lot of people still go for them, but they aren't as popular among the younger generation. You can even switch to semi-sheer pantyhose or one without any sheer to make this subtle change.
Do: Try Some Plaid
It can sometimes seem like patterns are a wild guess. Which ones will age you and which ones will make you look a little younger than you are? One option to try out is a little bit of plaid.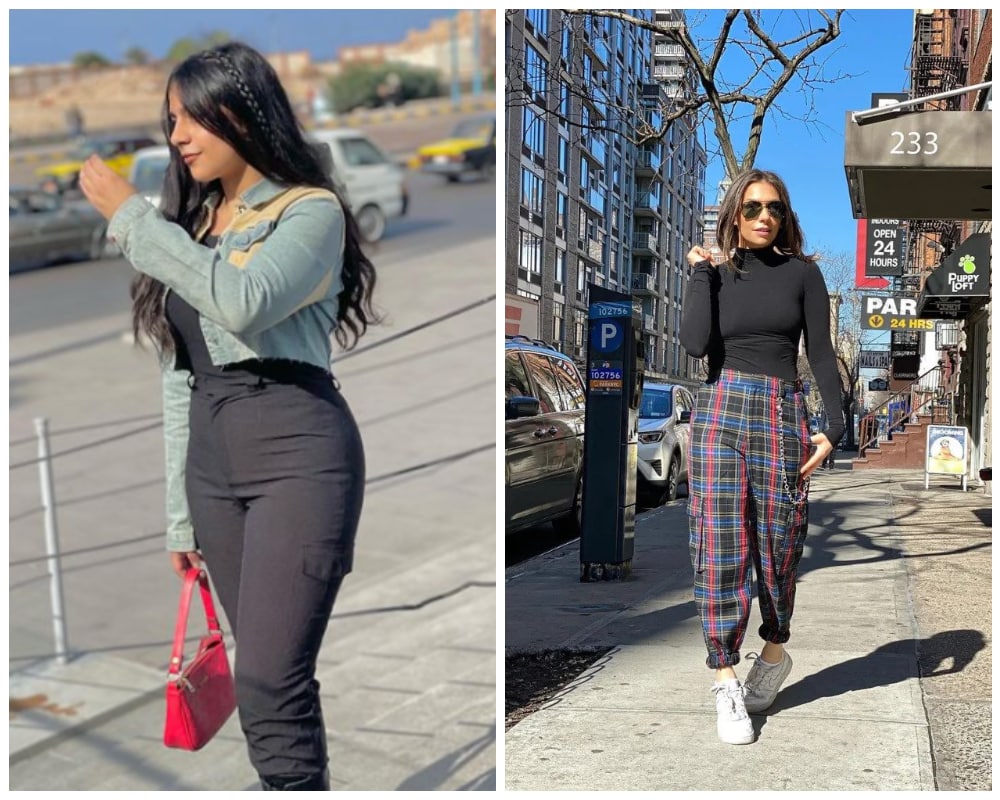 This is a pattern you don't want to overdo and multiple plaid patterns in one outfit can get a little overwhelming. Yet, it also offers a timeless look and because it's easy to go overboard, it's great for when you want a striking focal point in an otherwise neutral outfit.
Don't: Reach for Large-Print Tops
Earlier, we talked about how a large floral print can look really great. However, a bright, large-printed floral top can also age you quite a bit.
The same sentiment is true for any oversized print in a bright color. You have to be careful with these because the style is simply a bit dated and, in turn, can make you look older than you're aiming for.
Do: Try a Low Heel
If you avoid heels because they aren't comfortable or stable enough for you, that's totally fine! You should never sacrifice safety for style.
However, if you're comfortable with a low heel, it can help make you look younger. Similarly, if you're wearing flats, look for ones that prioritize both style and comfort when you're trying to choose footwear for the sake of looking younger.
Don't: Rely on a Ponytail
This isn't to say that young people don't wear ponytails. Not to mention, they're great when you're working out or simply want your hair out of your face.
Wearing a tight ponytail that pulls all of your hair back from your face won't help the illusion of looking younger. If you want to hide some of the signs of aging, such as wrinkles and fine lines on the forehead, a hairstyle with a bit of a bangs can lend to the effect.
Do: Find Inspiration
If you're trying to revitalize your wardrobe with a new goal – looking younger – in mind, it can be intimidating to find what you feel you look good in, while trying to new ideas. One great place for inspiration is actually Hollywood!
While you don't need to see what the most popular stars are wearing, you might want to take a look at a star with a similar body type to you and check out their casual clothes and street style. You can Google this and it'll give you some inspiration that's a little more practical than the red carpet.
Don't: Reach for an Oversized Sweater
An oversized sweater is a cozy choice when the weather turns colder. Not to mention, these are some really comfy additions to have in your closet!
If you want to look younger, though, you'll want to pass on the oversized sweaters. Much like blazers, you'll have an easier time creating a younger appearance if you opt for something more fitted. At the very least, try pairing your baggy sweaters with more fitted pants.
Do: Use Blush Carefully
To be clear, we don't think you should avoid blush entirely. If it's a beloved part of your makeup routine, you don't have to throw it out! You'll want to use your blush sparingly if you want to look younger, though.
All you really need is a little on your cheeks. Once it's in place, you'll want to use a tool like a beauty blender to make sure the blush is well-blended. This will give it a more modern look.
Don't: Reach for Dark, Matte Lipstick
There are some makeup dos and don'ts you'll want to consider when you're trying to look younger. For instance, lipstick matters a lot. Lipstick that's a lot darker than your skin tone will make your lips look smaller, which can make you look older.
To try for a younger look, go for lighter, brighter, or even nude lipstick. Staying away from matte colors will also help you look more youthful.
Do: Go for Simple Pants
Pants have changed a lot over the years and keeping your pants modern is a useful touch when you're trying to look younger. Extra details, like pleating or bunching, aren't as popular as they once were.
Plus, this is once again a concept where a fitted garment won't make you look older the same way a baggy one might. For something more modern, keep things sleek and simple.
Don't: Hold Onto Worn-Down Garments
While it might not be the first thing you think about, old and worn-out pieces won't help you create a more youthful appearance. We don't mean purposefully designed items like distressed jeans, but clothes that are genuinely past their prime.
Opting for something that fits, and is still in pretty good shape, will help you look younger than something torn and old. Sometimes, you can even repurpose older pieces into something stylishly distressed!
Do: Grab a Brow Brush
When you get older, you'll likely notice your brows starting to thin out a bit. This isn't a negative, it's just a natural part of the aging process. So, if you want to try and appear a little younger, filling in your brows a bit can help.
Overdoing it can also work against you, though. A helpful tool to tackle this is an eyebrow pencil that's a shade lighter than your brows. With your pencil at an angle, you can use small, gentle strokes to fill your brows in.
Don't: Settle for Bad Handbags
Purses and bags have a noticeable use when it comes to heading out for the day. However, they hold an aesthetic appeal as well.
If you just choose a purse for utility and don't pay attention to aesthetics, you're likely to end up with something clashing or something that makes you look older. Even if you need a lot of extra space in your bag, you can find stylish options that answer this need.
Do: Use Your Eyelash Curler
An eyelash curler is made to lift your lashes, curling them upward and making your eyes look a little brighter. This is actually a great anti-aging tool. While it's not going to reverse the effects of aging, it can help a lot.
As you get older, your eyelashes can lose their curl. While you don't always have to bust out a tube of mascara to look younger, taking a second to curl your eyelashes can help brighten up your face.
Don't: Turn to Black Eye Liner
Black eyeliner is a classic choice. It's a great place to turn to if you want to create a dramatic or eye-catching look. Unless you prefer a classic cat-eye, you'll want to use brown eyeliner to avoid looking older.
Brown is a great color choice because it'll help outline your eyes but it's a bit more subtle than a darker option like black, which looks great but can age you.
Do: Be Sparing With Setting Powder
Your skin changes over the years. So, as you age, some of the techniques you used to rely on may have more of an aging effect than they once did. To look a little younger, use a lighter hand when using a setting powder.
Powders have a tendency to settle into areas like wrinkles and fine lines when applied. Therefore, a lot of powder can give you a heavier, older look which will work against you if you're trying to look younger.
Do: Consider Smaller Frames
As we just covered, you don't want to wear frameless glasses if you're worried about looking older. However, thick frames aren't the best option either.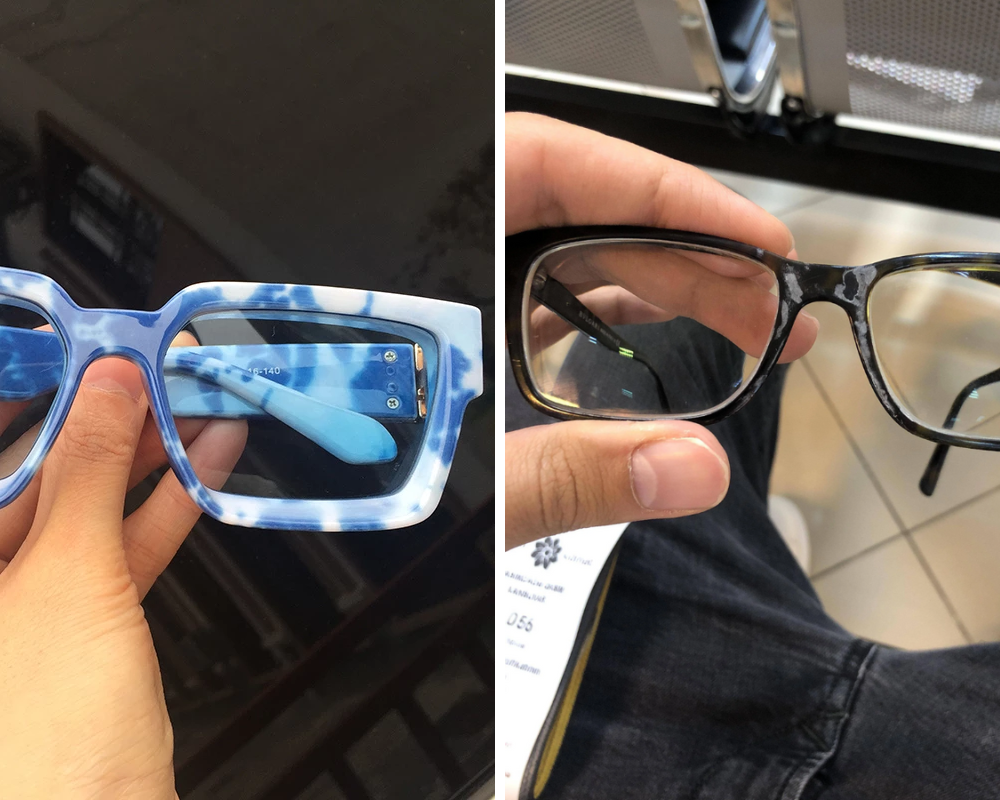 Many lean towards thick, dark frames in the hope of covering signs of aging around the eyes. However, this heavy look can work against you. Instead, opt for thin frames. In addition, it'll help even more if you take the time to find a bold, bright color you like for your frames.
Do: Express Yourself!
At the end of the day, fashion is an art form meant to help you express yourself. So, don't be afraid to do just that and let your personality shine through! It's easy to fall into the idea that you have to dress a specific way to pull off the illusion you want.
In this case, that means not looking older. The best way to use the advice we've covered so far is to consider how you can incorporate things you like, as opposed to just changing everything and foregoing personal preference.