Mimi Choi
Canadian makeup wizard Mimi Choi creates optical illusions on her own face. Sometimes, they're beautiful. Other times, they're bizarre. And then there are times that they're just baffling. But in this digital age, the super-talented young lady hasn't taken the easy route and used Photoshop. In fact, all her creations are made using traditional makeup.
This was one of her first makeup optical illusions from when she started in 2017. She calls this piece of art Worlds Within Me, and it was inspired by a surreal drawing.
Dain Yoon
Another talented makeup artist is Dain Yoon from South Korea. Known for her face and body painting, she has more than half a million followers on Instagram. She started painting at a very young age. And she immediately excelled at art.
So, it's hardly surprising Dain graduated at the top of her class from two of Korea's most prestigious art schools. Several of her designs feature this wavy effect. It looks like a painting, but it's achieved using only makeup.
Luca Luce
This is Luca Luce, who hails from one of the world's fashion capitals — Milan, Italy. His Instagram profile proclaims he is the "First hand and head painter 3D in the world." We're not sure about that, Luca, as people must have been painting their heads for centuries.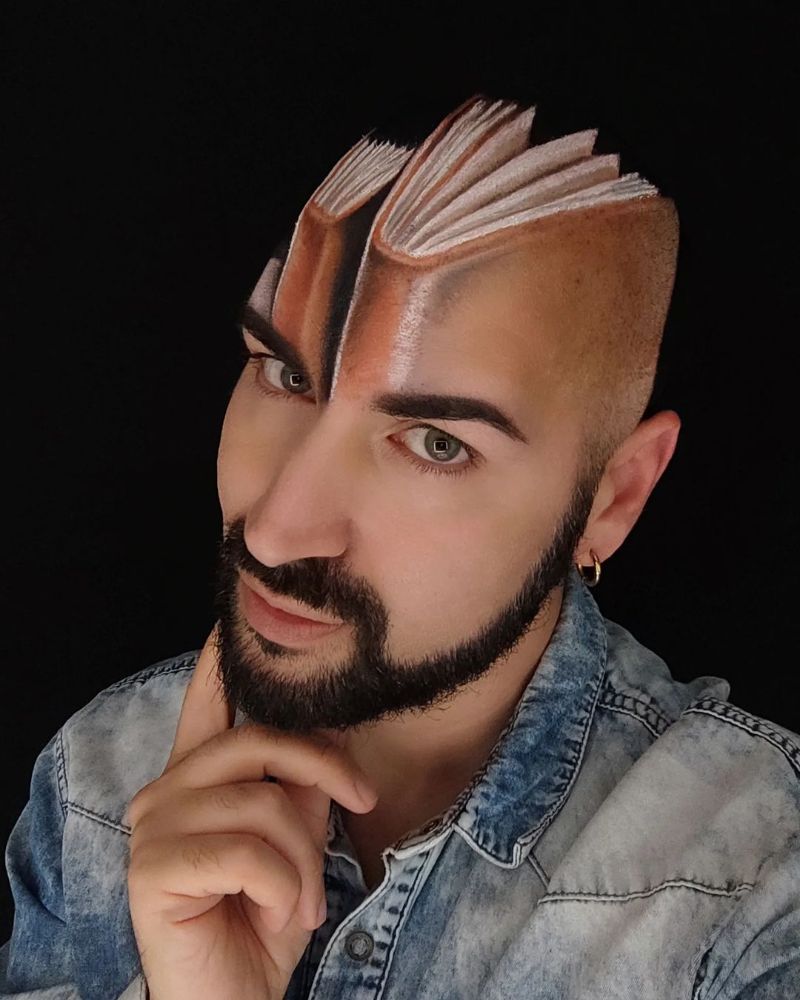 Mexican people do it every November for their Day of the Dead festival. However, Luca's little boast doesn't make his designs any less impressive. If proof was even needed that reading gives you brains, here's Luca to put that argument to bed.
21st Century Boy
Andy is another up-and-coming makeup artist who shows off his 3D designs on social media. He has swathes of Instagram and TikTok followers.
We don't even know his full name, but he likes to create horror-themed designs — and this one is inspired by the Mexican Dia de los Muertos, or Day of the Dead festival. Andy has updated the classic skull look with some 21st-century neon elements of his own. Check out those crazy red contact lenses and the green dye in his hair.
Cakeface RJ
Cakeface RJ is a gifted makeup influencer from the United States who's also huge on social media. According to the trendsetter, "Being able to work with Instagram when my career began on Instagram is crazy. It's like a full-circle moment. I know people who have worked in the makeup industry for ten years, and to see how far I have come in just three years, thanks to Instagram, is crazy.
RJ continued, "It's been a really interesting journey but a great one. I've had a really positive experience overall." This design sees her trying to crawl out of her own face. We know the feeling, RJ!
Say Hello to My Little Sis
Mimi Choi is lucky to hail from Vancouver, British Columbia. She started as a kindergarten teacher before enrolling in Blanche Macdonald, "Canada's Number One College for Makeup Artistry, Hair Design, Fashion Aesthetics, and Nail Artistry."
This is not Mimi in the photo; it's her little sister, Kendahl 'Lahbra' Jung, who's also an artist. Can you believe little sis actually went out for dinner looking like this? You can bet Kendahl turned a few heads and caught everyone's eye in the restaurant!
Oprah Winfrey
Amongst all her crazy imaginative designs, Cakeface RJ also has a talent for painting famous people… using her own visage as the canvas. So, while at first glance you might think this is just an oil painting of everyone's favorite chat show host, Oprah Winfrey, RJ has actually painted the Queen of Daytime's face over the top of her own face!
Every little detail is perfect, from the hair and the smile lines around Oprah's mouth to the reflection in her glasses. Well done, RJ — this is great!
Bird Brain
Luca Luce has been a TV celebrity makeup artist for over 20 years. But in 2014, he decided to create optical illusion makeup designs. He began by using his own hands as canvas but quickly started using his head and face as a canvas for his mind-boggling 3D artwork.
But one day, Luca finally cracked, and here's the evidence! He's used his cue bald noggin to lay an egg… from which a baby chick has just hatched.
Salvador Dali's Surrealism
Mimi Choi confesses she finds inspiration in many forms and once stated, "I get a lot of my inspiration from photography, paintings, and emotions." This melting face is reminiscent of Salvador Dali's works.
His artworks often feature things melting, most often clocks, which symbolize the impermanence and meaningless of time, especially in the abstract dream world. We're not sure what Mimi's melting face symbolizes. Maybe she created this one the morning after a late night out with the girls!
Pablo Picasso's Cubism
Salvador Dali and surrealism are not the only artist and genres that Mimi takes inspiration from. In this photo, she's gone a bit Pablo Picasso by introducing cubism to her face. Cubism was one of the most influential visual art styles of the early 20th century.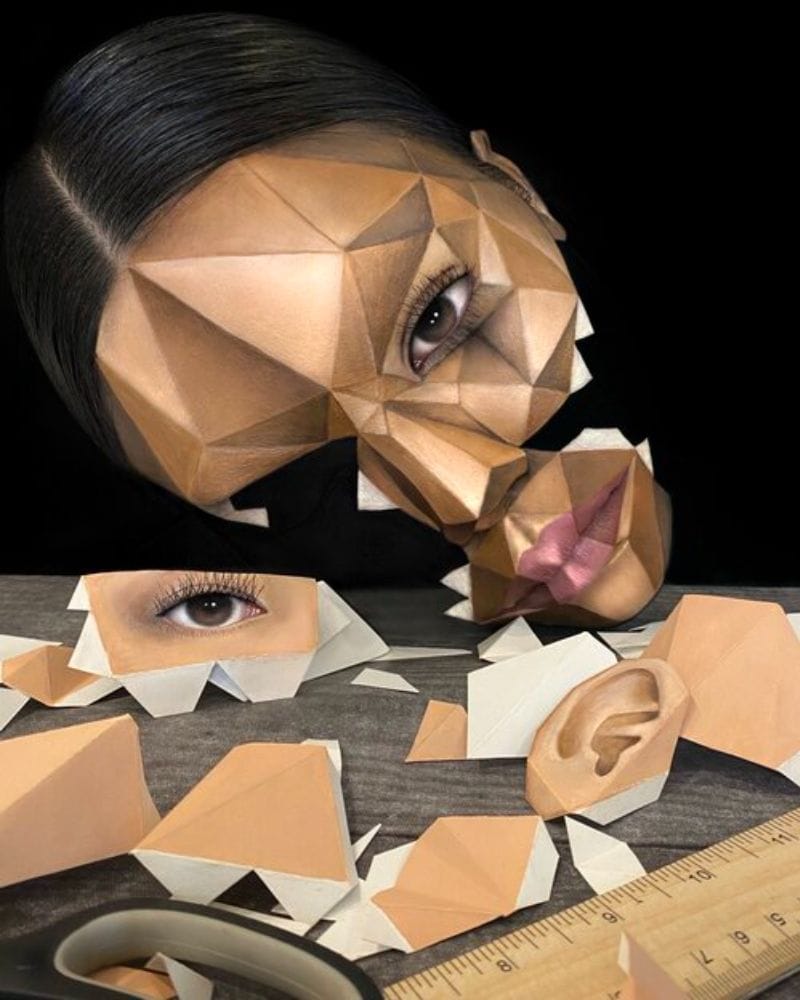 The art form was created by Spanish artist Pablo Picasso and French painter Georges Braque. Picasso and Georges first met in 1905. Two years later, Picasso showed his friend the first-ever Cubist painting, Les Demoiselles d'Avignon.
It's Hip to Be Square
Pablo Picasso, Georges Braque, and Mimi Choi aren't the only artists who think it's hip to be square. Luca Luce has also gone early 20th Century cubist for this face and head design. Behind the blocky nose and cheek, he's blended his hair and beard with black paint to create a dark background.
This way, it looks like his blocky, cubist cheek is jutting out from the darkness. Without this touch, it wouldn't look half as 3D as it does.
Korea Cube
Dain Yoon also tried her hand at cubism, although she may have taken it a bit literally by painting her face and body with cubes. We're not sure what passers-by on the streets of Seoul thought. They might have thought they were witnessing a Korean horror movie come to life!
Dain also revealed her fascination with illusions — "The reason I started to paint illusions is that I believe people live in illusions. People perceive everything in their own subjective way. My illusions distort reality and perception that are generally shared by most people."
Faceless
This optical illusion really stumped us. We have no idea how Mimi pulled this off. And the longer you look at it, the more stumped you become! So we can all agree that her real arm is entering the side of her head, and she's painted her hand onto her face. So far, we're up to speed…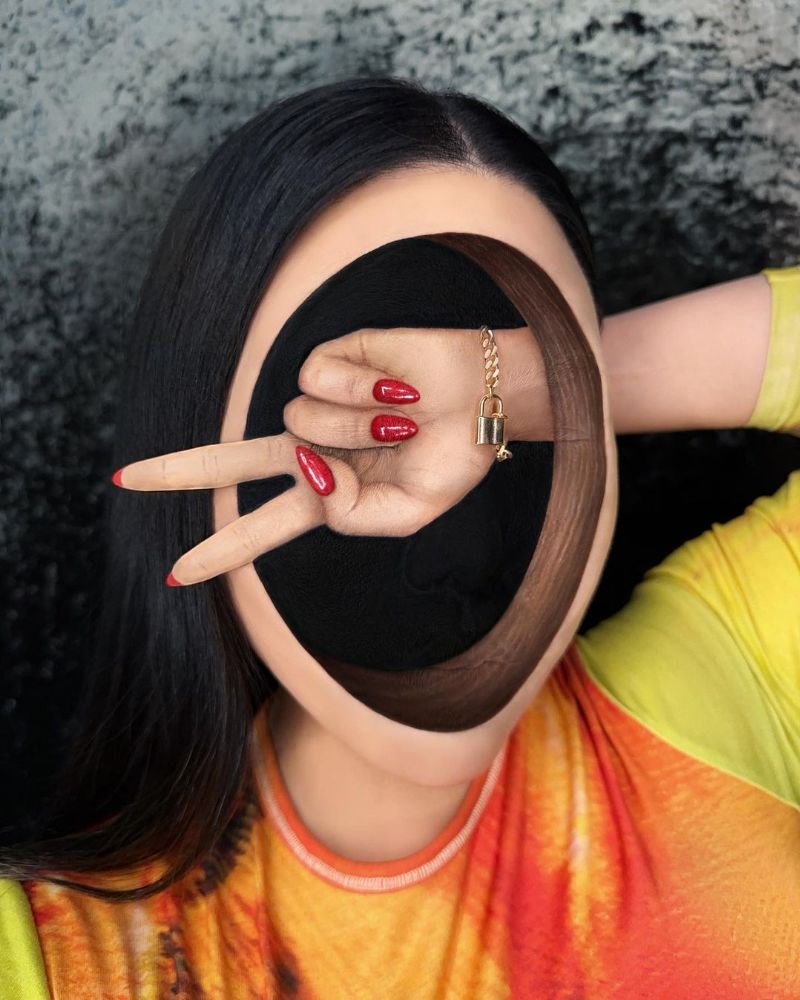 But, how on earth do her fingers extend beyond her face? Did she paint them onto her hair? It's genuinely baffling!
Freddie Mercury
Don't you think Luca Luce looks like Freddie Mercury in this one? Even when this cool cat is "under pressure," Luca has a "flash" of inspiration. So, he says "don't stop me now" and insists that "the show must go on" in order to create his stunning designs.
Even when he's "lazing on a Sunday afternoon," Luca has "one vision" regarding 3D makeup. "The good old fashion lover boy's" designs are "a kind of magic." And speaking of Freddie Mercury…
I Want to Break Free
This is how most of us feel when we wake up every morning! It's a great illusion, but you can just about make out Mimi's hair. She says most of her illusion makeup looks are achieved using regular beauty makeup products, makeup brushes, and fine detail paint brushes.
"My favorite tools have to be my Cozzette vegan makeup brushes, and my go-to products are Make Up for Ever Flash Palette and eyeshadows, Stila and NYX liquid eyeliners, and Kryolan aqua colors."
An Apple a Day
Here, Dain Yoon can be seen trying to blend in with her laptop. Who says creative types are disorganized? We do! Look at the state of her desktop. Never mind cleaning her face of that makeup; she really needs to spend a couple of hours cleaning up her desktop!
Dain explained that, contrary to popular belief, she doesn't perceive illusions as a means of deception. "I think that anything that seems slightly different from its original form could be an illusion or take you out of the illusion you're living in."
Cheeky Waterfalls
Cakeface RJ is back with a wonderfully wet optical illusion. The hand and glass of water are real, but she's painted every other element on her own face and body. And isn't the effect fantastic?
As you can see, the real water stays in the glass, and the painted water falls into the hole in her forehead before cascading out like mini waterfalls from her cheeks and collecting in a pool on her neck. Do you think RJ's water-flushing technique might be available for brains? If so, where do we sign up?
Sunglasses
Like many creative folk, Mimi is a bit of a night owl. She says, "I feel most creative past midnight when everyone is asleep and the world is quiet." She often starts late when the rest of the world is turning in for the night and works through the night to create her incredible pieces of art.
When she's not sleeping during the day, Mimi often wears sunglasses to hide her eye circles from staying up late.
Happy Birthday to Me!
Luca says, "I am inspired by everything from magic and fantasy, I never attended art school, but I love makeup and 3D art, so I got the idea of trying to paint images on my hand using makeup. For a small job like a spider resting on the face, it takes just half an hour."
Luca continues, "For something more complex like cubism on the whole face, it can take two hours or more." But when it's his birthday, he makes himself a birthday cake… on his own head!
She's Got Seoul
Like all artists, Dain Yoon revealed that it took her a while before she found her own style. But once she'd mastered the art, she created this stunning nocturnal piece of artwork. It doesn't work great as camouflage, but she effortlessly blends into the Korean sunset behind her.
We don't know if she took her inspiration from Vincent Van Gogh's most beautiful painting, Starry Night, but we'd like to think so. As such, we'll call this one Starry Seoul Night.
Avatar
With a little more digging, we've discovered that Andy hails from Poitiers in western France. Here's his attempt at looking like a male Na'vi from James Cameron's super-successful Avatar film franchise. He's definitely captured the fearless warrior aesthetic, and the colors, tones, and shadowing are fantastic.
Check out his cheekbones beneath all that makeup. It must have taken him ages. The only element we're not sure about is the ears. Begging the question, have male Na'vi always had such adorable little pink pixie ears? And what's going on with his nose? It looks a little rude!
Avatar 2
And here's Cakeface RJ's attempt at looking like a female Na'vi from the Avatar films. She's gone for a completely different style to Andy's — much more feminine with a soft focus feel. Instead of going for crazy colored contact lenses, RJ's actually painted those huge anime-style eyes onto her eyelids.
After doing a little research on the interwebs, we found out that female Na'vi do actually have some pink in their ears but not as bright as Andy's or RJ's lovely pink ears.
Beautiful Butterflies
These gorgeous blue butterflies escaping from Mimi's gorgeous face are great. But we don't quite understand how they're flying away, unless they're somehow attached to her hair by wires. This beautiful design must have taken forever to create.
Mimi says she like a challenge and confesses her works of art take her anywhere between one and five hours. She said, "I like creating optical illusions with makeup because it's the most challenging makeup style out of everything I've tried, and I like challenges."
Jack Skellington
It's little wonder Luca Luce is so darned creative. Here he is with Jack Skellington rattling around in his brain, providing the marvelous Milanese makeup man with all the inspirational juices he needs, whatever the season. Come Halloween or Christmas, Luca is always creating.
Jack Skellington, aka The Pumpkin King, appeared in Henry Selick's 1993 stop-motion animation masterpiece The Nightmare Before Christmas. Henry Selick, we hear you cry! Who's he? Well, he directed The Nightmare Before Christmas — not Tim Burton.
Qinghua China
Here, Mimi has transformed her face into a piece of broken Chinese pottery. Blue and white Qinghua porcelain is China's most famous porcelain and has been produced for over a thousand years. The beautiful traditional designs often feature flowers, fishes, or scenes of rural life in ancient China. But on this occasion, Mimi has opted for a striking dragon pattern.
The broken crockery has spilled out across the table while Mimi's face is hollow. As well as the impressive dragon, notice how realistic the plate's cracks are on her face.
Chris Brown
That super-talented lady Cakeface RJ has come up trumps again. This time, she's turned herself into rapper Chris Brown. While her Oprah Winfrey looked like an oil painting, this version of Rihanna's ex is so life-like and photorealistic, RJ could probably walk down the street and get asked for her autograph.
Well, pop fans would actually be asking for Chris Brown's autograph, but you know what we mean! She spent hours on this and confessed the hardest part was getting Chris' red hair right.
Anyone Up for a Cup of Tea?
This cup of tea in the process of spilling is stunning and must have taken all day. Or all night in Mimi's case. The brilliant piece shows a milky cup of tea spilling from quite some height out of a teacup and splashing all over the table.
But in between the cup and the table is Mimi's face. You can see the strands of her hair in the liquid tea. If you look closely enough, you can still make out her gorgeous eyes, nose, and mouth.
Lizard Brain
We've all heard of the third eye, but did you know the pineal gland is a real eye? Going back through millions of years of evolution, it used to have an eyelid, and lizard's pineal glands still do today. But, things get even creepier…
The basal ganglia part of our brains is also known as the lizard brain or reptilian complex, so maybe that's where Luca Luce got his inspiration for this creepy, alien lizard crawling out of his brain design.
Fish Face
This example of Mimi's work is like a fishy version of another much older piece of art called Vertumnus. It was Giuseppe Arcimboldo's 1591 portrait of the then-current Holy Roman Emperor Rudolf II. But Vertumnus was unusual because Arcimboldo used fruits, vegetables, and flowers to create Rudolf II.
Vertumnus was the Roman god of seasons, change, plant growth, gardens, and fruit trees. Similarly, Mimi's fishy face employs a whole swathe of marine life — from flatfish and shrimp to starfish and shellfish. Notice the eel wrapped around her neck.
Dark Elf
Here's one of Andy's horror-themed designs. We think he's half been possessed by some sort of Dark Elf from another far-off, fantastical, and other-worldly realm. That fantasy realm, of course, exists only in Andy's imagination.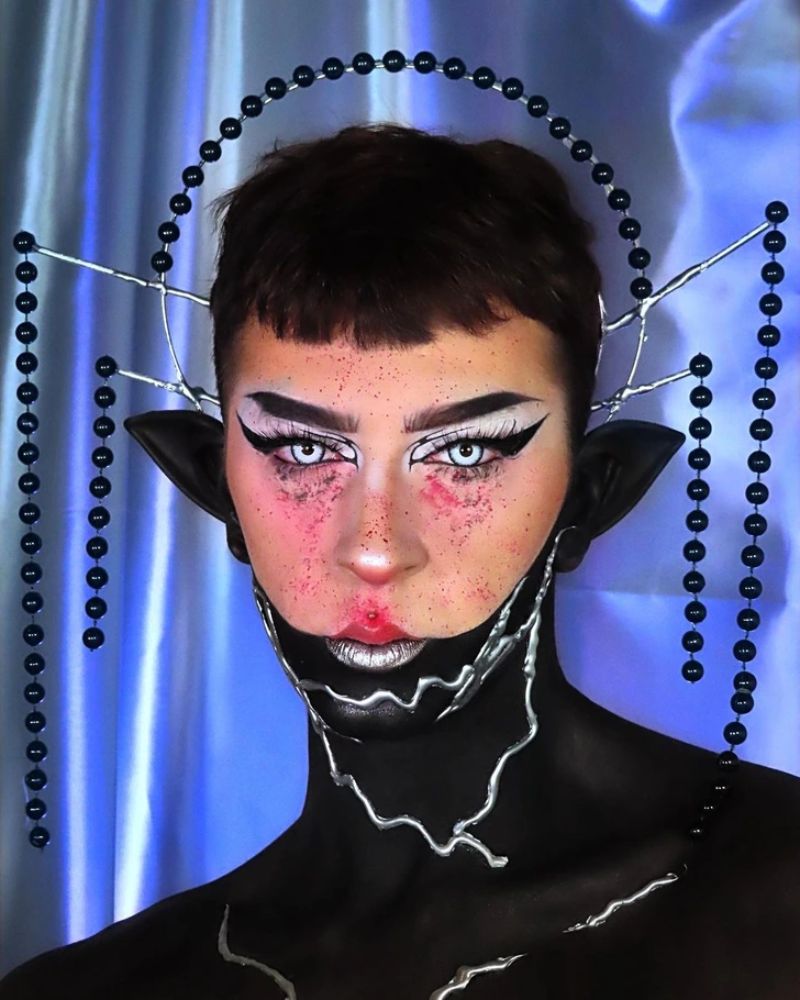 The makeup is fantastic, especially the black neck and jaw with silver lips, and the contact lenses make him look extremely devilish. However, we're unsure what's going on with all those beads and the wire getup around his face. It looks great, though, Andy!
Life Is a Carousel
This carousel design was the last thing Mimi should have been doing. When she finally finished painting it and posted it on her Instagram account, she wrote, "I painted this look while I was 30 weeks pregnant."
We won't go into the gruesome details in case you get icky, but let's just say that Mimi also experienced several bouts of morning sickness as she created this one. Do you know what British people call carousels? Merry-go-rounds! How cute is that? Don't tell Mimi, as it might set her off again!
I Scream for Ice Cream
If you're wondering why Cakeface RJ goes by that name, the reason is that she has a sweet tooth. She loves ice cream so much that she can eat three at a time!
This design took her a full six hours to create, and when she had finished and was snapping the final photos, she had to rush as the ice cream pops were melting. And when she doesn't get ice cream, that's three more mouths and three times the volume she can scream at!
Big Mouth
How does Mimi Choi power through her mammoth nighttime art sessions? Well, she's finally been caught in the act. Here she is, stuffing her giant mouth with a rather bland, floppy, and uninspiring-looking pizza.
She says she "painted a piece of paper and glued it onto my skin to blend with my facepaint because it would have been impossible to disguise my real lips seamlessly! She added, "Plus, it allowed me to go far beyond the edge of my face to create a more proportionate tongue."
Jackson Pollock
Andy's gone the full hog on this one. While he looks like he's turned himself into a Jackson Pollock painting by having a friend throw gallons of paint all over him, we know that's not Andy's style. That's far too random and haphazard for a guy like Andy.
He would have spent hours painstakingly painting every little detail. With all those pinks and yellows, the colors are incredibly striking. Once again, the contact lenses are essential, but the most striking element is those crazy eyelashes.
Slice of Life
If you ever feel like you're falling apart, spare a thought for poor old Mimi Choi! After Mimi's slice of pizza, she decided she needed another slice. But this time, she plumped for a slice of life. This great design shows Mimi's face as if it has been sliced into strips of pasta, perhaps linguini.
If you feel like you could fall into those big brown anime-sized almond-shaped eyes, think again. Those aren't actually Mimi's real eyes; she's drawn those on with makeup.
Not Just a Pretty Face
Dain Yoon says, "My face is the most powerful medium of art. I can use my canvas to express my individuality." Her handpainted designs can take anywhere from 3 to 12 hours. She says, "The real face reveals itself underneath the hand that hid it, expressing how the first impression of a person does not tell the whole story."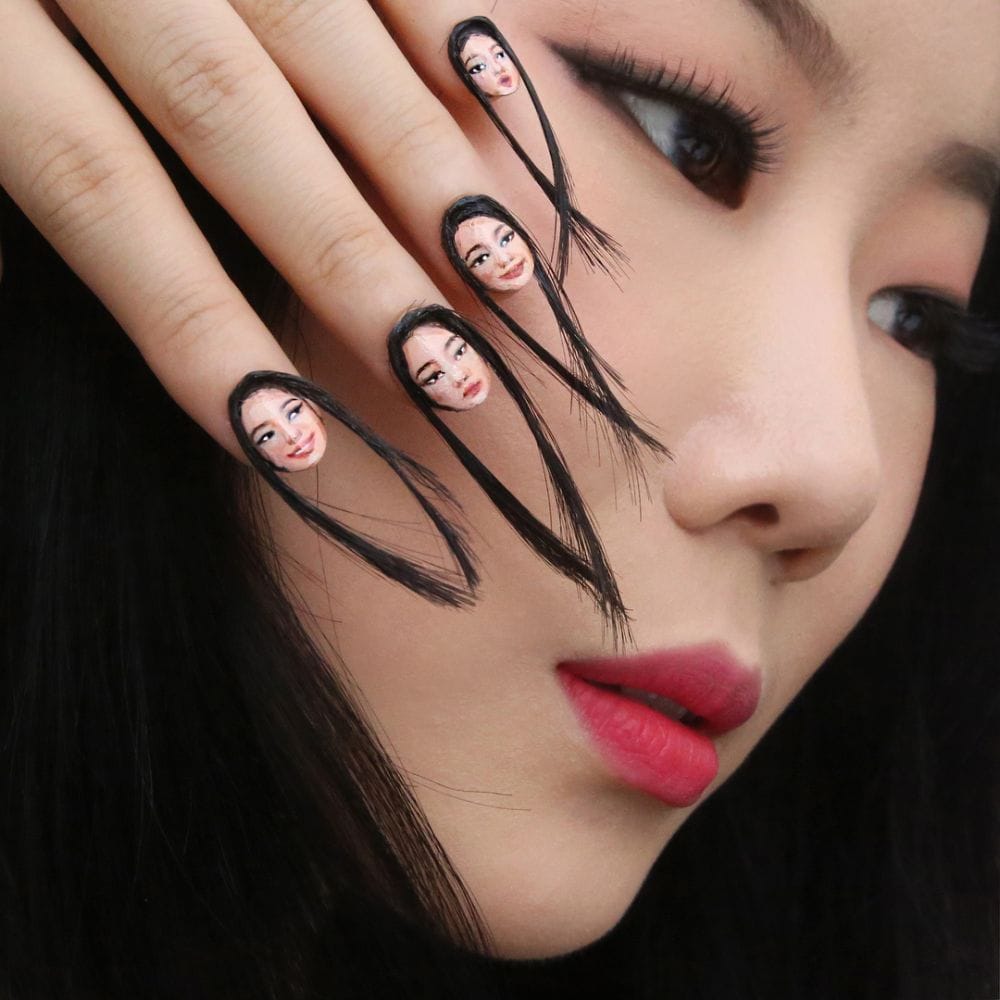 And speaking of, "The real face revealing itself underneath the hand that hid it," here's Dain's face on her fingernails. If you're wondering, yes, that's her real hair!
Black Panther
Cakeface RJ doesn't just turn herself into rappers and daytime chatshow hosts like Chris Brown and Oprah Winfrey. With the right makeup and a few spare hours on any given Sunday, the unbelievably gifted artist can also turn herself into superheroes — which we think is a superpower in itself.
In this instance, she has used her face as the canvas for Marvel's Black Panther, so brilliantly portrayed by the late, great, and sorely missed Chadwick Boseman. This is the point you cross your arms on your chest and proudly state, "Wakanda Forever!"
Cubist Cleopatra
After pursuing art from an early age, being in the art industry since the age of 10, and undergoing years of training at two prestigious colleges, all of Dain Yoon's hard work is finally paying off. She's worked with Apple and BMW, and she gets to fly all over the world to show off her designs.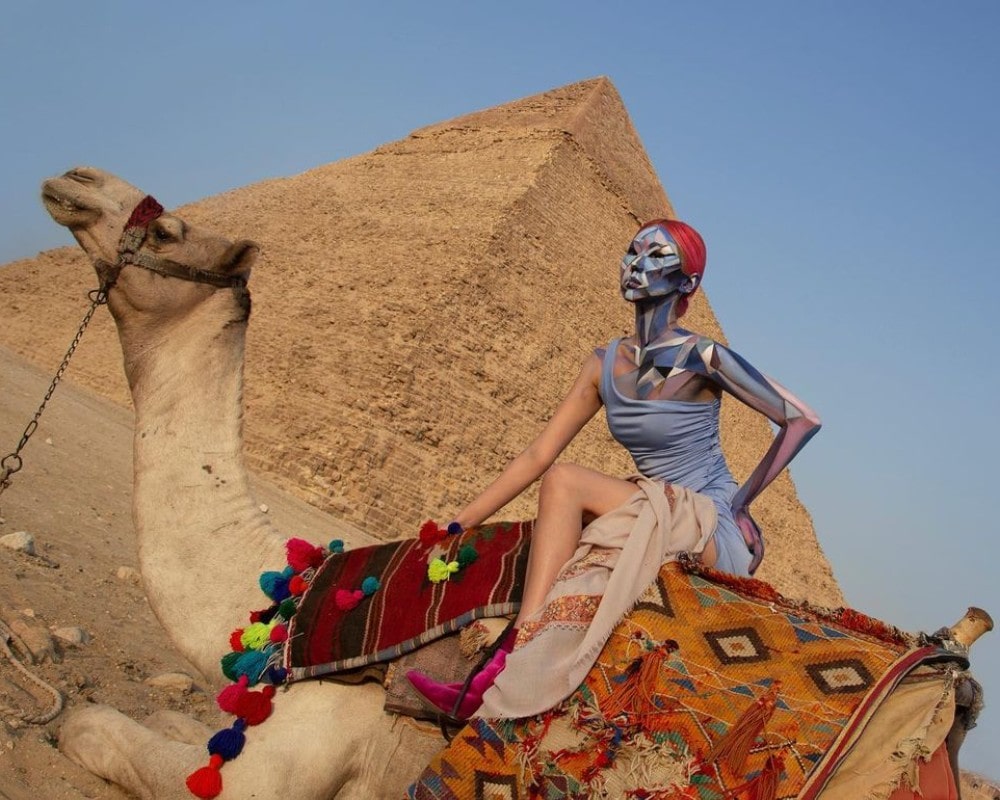 Here she is outside The Great Pyramid of Giza, Egypt. While her blue face and body art makes her look like a cubist Cleopatra, we're not sure the camel is that impressed! Maybe he's in denial. Get it? De Nile!
Jeff Goldblum
In an unusual shot, we get to see Mimi au naturel and in all her glory. She's finally getting the props she deserves and made it to Hollywood. Here she is painting beloved actor and all-around superstar Jeff Goldblum.
Mimi posted on Instagram, "Behind the scenes of my day with Jeff Goldblum. Watch me transform Jeff in The World According to Jeff Goldblum by streaming the episode "Cosmetics" on Disney+." So, now you know where you can watch Mimi on TV.
Hollywood Calling
Dain Yoon's exploits have taken her all the way to Hollywood with an appearance on The Ellen DeGeneres Show. Appearing on Ellen's armchair, the Korean artist sported six eyes and three mouths.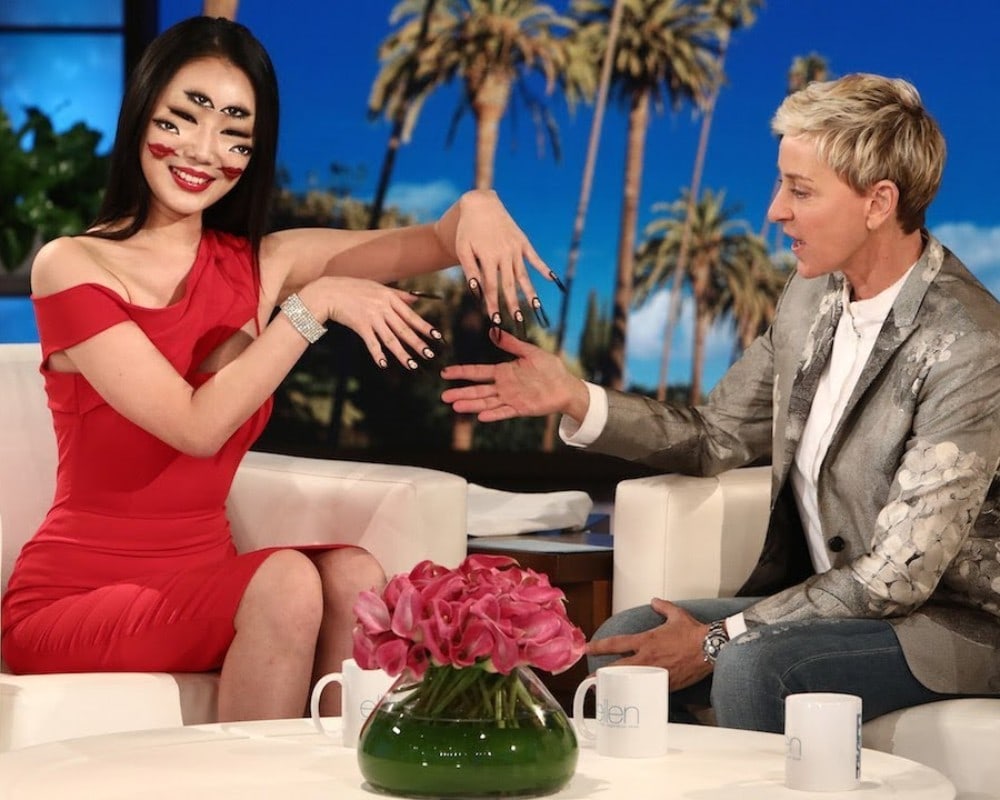 Ellen asked her if she ever went out looking like that, and Dain said she sometimes goes out in public wearing her creations, and one time she scared a baby and made them cry! The moral of the story, in the words of the great Joseph Campbell, "Follow your bliss." In other words, do what you love, and it will take you far!
The Eyes Are the Window to the Soul
We shouldn't have favorites, but this photo is one of our faves. As you can see with your own eyes, uber-talented makeup artist Mimi has painted dozens of eyes (with eyelashes!) onto her own face, and the Guillermo Del Toro Pan's Labyrinth-inspired result is as shocking as it is beautiful. Surprisingly, not everyone is a fan of Mimi's work.
She says, "I think all artists who display their work publicly are susceptible to critique because art is subjective. I tend to turn negativity into a positive force to improve on my craft."
Hey, Hands Off!
Believe it or not, only two of these hands are real. Dain Yoon's real hands are the one up by her mouth and the lowest one in the bottom right of the photo. Since all art is subjective, there's more than one way to interpret this design. The first is to see it as quite sensual, going by Dain's expression.
But the other way is more sinister, as though she's being captured by Thing — the dismembered hand from The Addams Family… and his siblings!
She's Gone Bananas!
It's not just her face that Mimi Choi paints. Here, she gets fruity by transforming her own legs into a couple of bananas. And then she went the whole hog and started peeling herself! We think the effect is great. The bananas, peeling skins, and even the little sticker look wonderfully realistic.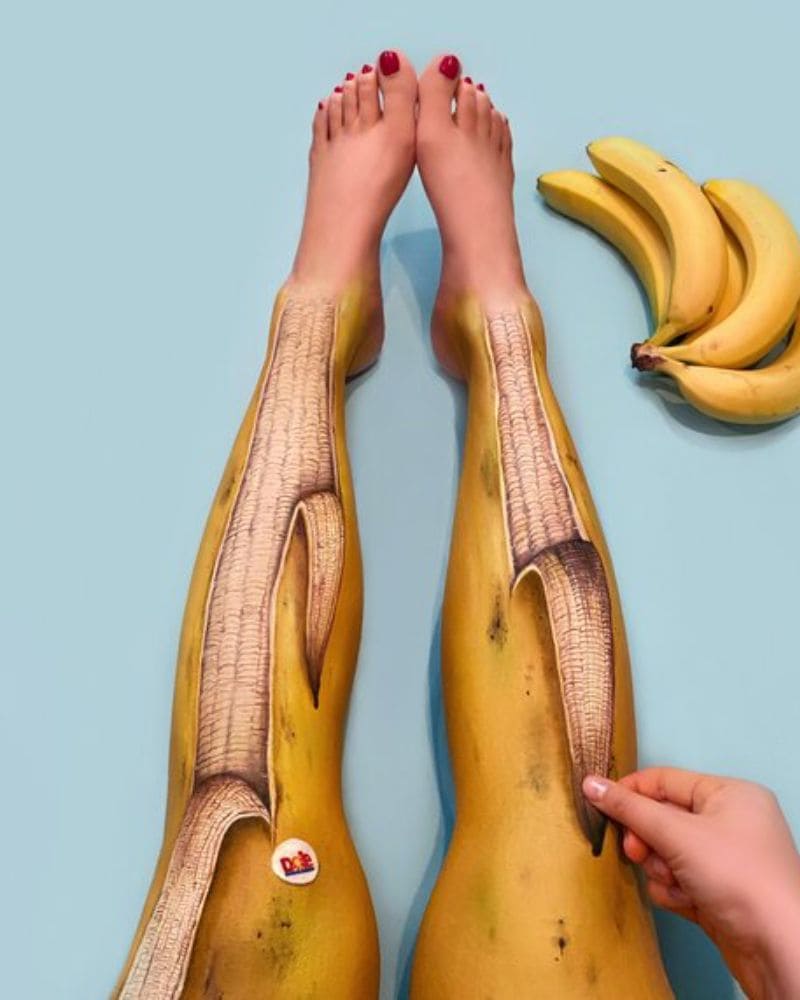 Although we must point out that the actual banana looks a little too bobbly. It reminds us more of corn on the cob. Not sure what we're complaining about, as we wouldn't know where to start!
Hieronymous Bosch
Is it just us, or is there an element of Hieronymous Bosch's hellscapes to this creation? Dain Yoon studied scenography, which paved the way for her theatrical career.
She said, "Since I was a freshman, I've done many part-time jobs that I was interested in; stylist, teacher, graphic designer, film assistant, movie makeup, theater makeup, musical costume, model, etc." Yoon continued, "After I did many part-time jobs, I mixed all those together that I enjoyed doing. It really helped me to find my own art style."
I Like Candy
In this instance, Mimi Choi has given in to her sweet tooth. Because who wouldn't wish for more mouths to eat candy? If you had nine extra mouths, what candies would you eat? We'd go for exploding popping candy, although it might be a bit like a bomb going off in your head!
This example of Mimi's crazy makeup art is perhaps the one that looks most photoshopped, but after getting to know her work, we can safely say that it isn't. Note to Mimi — you're supposed to unwrap candies before eating them!